Telsa Roadster delayed as CEO steps down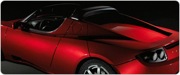 In an internal memo by Martin Eberhard, Tesla's CEO and co-founder, Eberhard announced he will step down as CEO after a four-year reign. Under Eberhard, Tesla has grown from 2 employees in one laction to 250 spread around the world. He will continue with the company in the role of President of Technology and will remain on Tesla's board of directors. In the new role, Eberhard will finalize the details of the upcoming Roadster and will continue to focus on Tesla's leadership in its core technology.
Michael Marks has been named interim CEO of Tesla until a permanent replacement is found. Marks is the former CEO of Flextronics, the world's largest contract manufacturing company, and also an early investor and customer of Tesla.
Eberhard also discussed the progress of the Roadster in his memo and said that it should be ready for production as early as next month. There has been a delay in production due to a change in the design of the transmission and its supplier, according to Automotive News.
The Roadster, based on the Lotus Elise, could be available to customers as early as November. Tesla is still awaiting the results of crash testing and the EPA's range validation, but claims the car can go from 0-60 in 4 seconds and has a range of more than 200 miles. Sold through factory-owned stores rather than franchised dealerships, Tesla hopes to sell 1,000 of the $98,000 Roadsters annually. 570 examples have already been pre-sold.
In addition to the Roadster, 35 Detroit engineers are also working on the Tesla electric sedan, code-named the White Star. Tesla has already purchased land in Albuquerque, New Mexico to build a White Star factory, although ground is yet to be broken according to Automotive News. Eberhard said he hopes to see the White Star in production by 2010 and that Tesla may issue initial public offering as early as next year to fund the construction of the new factory.