03/27/2007 02:57 AM
Adobe has today fleshed out its release plans for the next version of Photoshop. As reported earlier there will be two versions made available when it begins shipping next month. The standard edition will be familiar to existing users while a second 'extended' release will be aimed at industries as diverse as medicine, architecture and 3D design which already use image manipulation packages but require specific tools and features not currently included in Photoshop. This split in the product line serves to extend Adobe's potential market whilst not forcing traditional users to adopt the new additions unless they choose to.
Press Release:
Adobe Delivers Two Editions of Photoshop CS3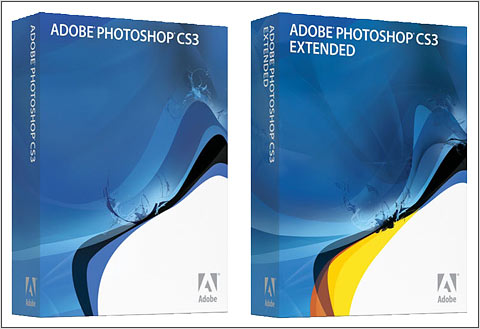 Photoshop CS3 and Photoshop CS3 Extended Push the Boundaries of Digital Imaging
London — March 27, 2007 — Adobe Systems Incorporated (Nasdaq:ADBE) today announced Adobe® Photoshop® CS3 and Photoshop CS3 Extended, two new editions of the professional industry standard for digital imaging. Photoshop CS3 software is a major upgrade, offering new innovations in editing power and productivity for designers and photographers. The addition of an entirely new version of Photoshop, Photoshop CS3 Extended, means creative professionals can now discover new dimensions in digital imaging, harnessing everything in Photoshop CS3 plus groundbreaking tools for 3-D, motion graphics, image measurement and analysis. Photoshop CS3 Extended expands the boundaries of digital imaging, simplifying the workflows for professionals in architecture, engineering, medicine, and science.
Photoshop CS3 and Photoshop CS3 Extended will be available as stand-alone applications or key components of Adobe's expanded Creative Suite® 3 family, also announced today (see separate press releases). The software will be available as a Universal application for both PowerPC and Intel-based Macs and will support both Microsoft® Windows® XP and Windows Vista. Customers will experience increased levels of performance and speed running Photoshop CS3 on Intel-based Macintosh systems and the latest Windows hardware.
"This is the year in which Photoshop reinvents itself," said Deborah Whitman, vice president of product management for Digital Imaging at Adobe. "In this landmark release, we took the professional industry standard and greatly expanded the possibilities for designers and photographers, while challenging it to shine across a whole new set of tasks. We're delivering Photoshop CS3 and Photoshop CS3 Extended to a new breed of cross-media creative professional and stretching the limits of what can be done by architects, scientists and doctors."
Advanced Tools for Designers and Digital Photographers in Photoshop CS3
Photoshop CS3 beta testers have confirmed the release as a must-have for designers and photographers. With new features for advanced compositing, designers can automatically align multiple Photoshop layers or images based on similar content. The Auto-align Layers command quickly analyzes details and moves, rotates or warps layers to align them perfectly, and the Auto-blend Layers command blends the color and the shading to create a smooth, editable result.
With the latest version of Camera Raw, photographers can process raw images with increased speed and superior conversion quality, with its support for over 150 raw formats, JPEG and TIFF files, compatibility with Adobe Photoshop Lightroom™, and new tools such as Fill Light and Dust Busting.
Image Analysis, 3-D and Motion Support in Photoshop CS3 Extended
Photoshop CS3 Extended software includes everything in Photoshop CS3 plus additional specialised features such as support for 3-D and video workflows, animation and in-depth image analysis. With support for popular 3-D formats, creatives can render and incorporate rich 3-D content into their 2-D compositions, including texture editing on 3-D models. Using the Enhanced Vanishing Point, designers can measure in perspective and also export from Enhanced Vanishing Point to a 3-D model. For video post-production, Photoshop CS3 Extended now includes video-format and layer support to edit video files frame by frame. The resulting video can then be exported to a variety of formats including Flash®. Pioneering new uses in areas such as manufacturing and medicine, the Measurement Log palette calculates a range of values within an image, the Scale Marker easily adds a scale graphic to any image, and the new Count tool tallies features in an image simply by clicking on them.
"We estimate that 98 percent of all video games on the shelf were created with Photoshop," said Michael Casalino, senior environment artist for Electronic Arts Sports. "The enhancements in Photoshop CS3 and Photoshop CS3 Extended will make the software even more indispensable to us, with functionality like the new 3D editing tools allowing users to seamlessly incorporate 3D content into the image-editing workflow."
New to Photoshop CS3 and the Adobe Creative Suite 3 family, Adobe Device Central (see separate release) radically boosts the productivity of creative professionals who develop content for mobile handsets.
Adobe Photoshop Family
Adobe offers the right Photoshop for all types of users. Photoshop CS3 and Photoshop CS3 Extended are at the heart of the Photoshop family. The portfolio also includes Adobe Photoshop Lightroom™, which provides a complete digital darkroom for professional and serious amateur photographers; Adobe Photoshop Elements with editing and sharing options for photography enthusiasts; and the free Adobe Photoshop Album Starter Edition, which meets the needs of the casual photographer.
Pricing and Availability
Adobe Photoshop CS3 and Photoshop CS3 Extended will begin shipping in April 2007 to customers in the United States and Canada, and will be available through Adobe Authorised Resellers and the Adobe Store at www.adobe.co.uk/store. Estimated street price for Adobe Photoshop CS3 is £485 and £755 for Photoshop CS3 Extended. Upgrade pricing is available.