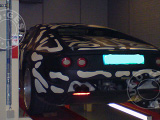 Automotive spies in Europe have captured images of what appears to be an actual prototype 2010 Lotus Esprit. Previous test mules featured an old Esprit body with new underpinnings.
The car will be built at the Lotus headquarters at Hethel in Norfolk U.K. Lotus announced it had decided to build the successor in May, following an extensive evaluation of feasibility. It was later confirmed the Esprit name would be retained.
In September, Lotus gave a firm timeframe for the new Esprit, which it says will be unveiled in December 2009. Previously, Lotus had planned to launch the car a year earlier. The Esprit will be one of three all-new models due in the next few years.
Several sources have reported that Lotus has chosen to use a 4.4, or 4.8 litre V8 engine from BMW, customized by Lotus with its own electronic engine management and control unit.
It has been officially confirmed by Lotus that the new Esprit will not only become available as a coupe, but, for the first time, as a convertible/roadster, too.
Pricing is expected around $130,000 — undercutting the Ferrari F430 and Lamborghini Gallardo.