~500,000 iPhones Sold in the First Weekend
07/02/2007 09:21 PM Filed under:
Apple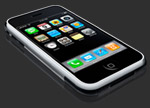 Early sales estimates are in and they are very impressive. According to market research firm Piper Jaffray, Apple sold about 500,000 iPhones from 6 p.m. on Friday through end of business Sunday night—300,000 more than the market research firm originally estimated the company would sell.
Piper Jaffray's Gene Munster also revealed that ninety-five percent of buyers in San Francisco, New York and Minneapolis purchased the 8GB model. Also, about half of the 253 buyers surveyed were new customers to AT&T.