Nikon announces 2 new zoom lenses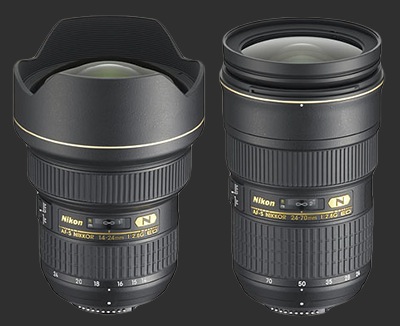 Nikon is pleased to announce two zoom NIKKOR lenses designed to maximize the potential of the advanced new FX format D3 digital SLR camera launched today. Fully compatible with existing DX-format Nikon DSLRs as well, they share fast f/2.8 apertures across the zoom range. The ultra wide-angle AF-S NIKKOR 14-24mm f/2.8G ED and the slimline AF-S NIKKOR 24-70mm f/2.8G ED, are designed for the exacting optical demands of professional use.
"These new zoom NIKKORS offer photographers immense creative potential when combined with the new FX-format D3, but are equally useful for those using Nikon's DX-format cameras too", said Robert Cristina, Brand Manager, Nikon Professional Products Europe. "They are the first wide-angle lenses to incorporate Nikon's unique Nano Crystal coat, that suppresses the ghost and flare that sometimes occurs with the reflective surfaces of digital sensors."
AF-S NIKKOR 14-24mm f/2.8G ED
The ultra wide-angle/fast aperture combination of the AF-S 14-24mm f/2.8G ED lens is a world first*, and is highly adaptable for the tight spaces busy professional photographers often find themselves working in. The excellent optical quality of this 14-24mm lens, combined with excellent levels of detail contributes to brilliant, sharp results.
AF-S NIKKOR 24-70mm f/2.8G ED
The completely new standard zoom AF-S 24-70mm f/2.8G ED complements the NIKKOR range of professional lenses. Much slimmer than its predecessor, (the AF-S Zoom-Nikkor 28-70mm f/2.8) the new lens exhibits outstanding characteristics at wide settings where centre-to-peripheral resolution is a priority, making it ideal for landscape photography. At the 50-70mm setting, crisp details are displayed with excellent bokeh, making the lens highly suited for portraits.
Both lenses share Nikon's unique Nano Crystal coat technology to minimize ghost and flare, with ED glass elements contributing to outstanding levels of resolution and contrast. Nikon's precision Silent Wave Motor assures fast and quiet autofocus performance, with instant manual override possible. Both lenses are designed with high dust and moisture resistance, and include a rubber seal around the bayonet mount.
Specifications and Availability
- The AF-S 14-24mm f/2.8G ED measures 98×131.5mm and weighs approximately 1,000g.
- The AF-S 24-70mm f/2.8G ED measures 83×133mm and weighs approximately 900g.
- Each of the new lenses comes with a flower-shaped hood and a semi-soft case.
- The hood of the 14-24mm is integrated, the 24-70mm removable.
- Prices to be revealed in September.
- Both lenses will be available in November 2007.